Key Messages
Starting your career as a Young Hubber at TriFinance

Onboarding during the COVID pandemic
A challenging career in banking and insurance
Starting out your career is an exhilarating time for all young graduates. It's even more challenging during the pandemic we are living through. This article describes my experience having just left university and joining a remote workforce for the first time. Read more about the kick-start I made at TriFinance and why I recommend the Young Hub Program to those who are looking for a challenging career in banking and insurance.
My first mission within Private Banking
After completing some specific training on soft and hard skills during the launch of the Young Hub Program, it was time to embark on my first assignment. I was very eager to join one of the oldest independent private banks in Europe, where TriFinance assisted them in the implementation and aftercare of a core banking migration. Together with another TriFinance Me inc.®'er, we reinforced the Finance team to assure the continuity of the financial closings and the support of the Accounting, Reporting & MIS activities. I immediately felt empowered with many responsibilities, which increased my motivation and energy even more!
TriFinance's unique asset is its close cooperation with their clients. As a young graduate within Financial Institutions, I received targeted guidance and mentoring to accomplish my tasks. To achieve this, periodic status meetings are held where personal development is put first. It is this combination of know-how and do-how that is the biggest driver towards future growth.
It is the complementary combination of know-how and do-how that is the biggest driver towards future growth.
Bert Wouters
Staying connected while working remotely
As all students nowadays experience, working and networking from home is clearly not an easy task. Yet I can say that, although I have not yet been able to visit our homebase in Zaventem, I still feel very involved with the employer and the colleagues around me. For example, employees team up for a Strava hike challenge together, online team building events are organized on a regular basis and you can always find someone who wants to take an informal online coffee break for about 10 minutes. And I must honestly admit... aside from spilling a sandwich on the keyboard during an online lunch, it's all going smoothly :-).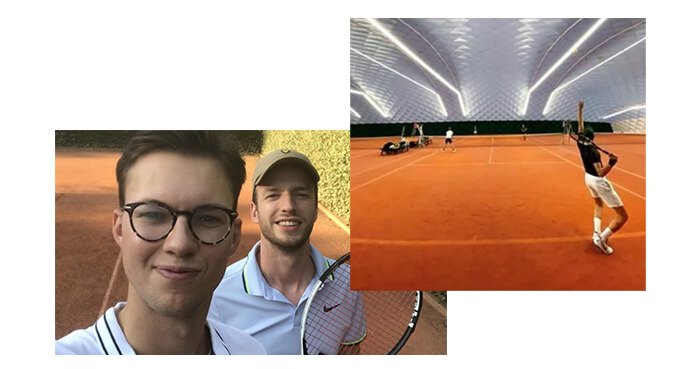 What's next?
My first rewarding mission immediately put me in a position to grow further within the world of Private Banking, where I am currently taking on the challenge of working as a Junior Project Manager Financial Markets at one of the main Belgian banks. My focus will be on the delivery of quality processes during the implementation of a new portfolio management system. I'll also be responsible for the coordination of several parts of the project and in charge of the description of the required solutions. This means I'll document the required changes and synchronize with the IT-department, coordinate the project team and manage communication with the different stakeholders. I am eager to take up this new opportunity and create significant added value for the client!
Why TriFinance?
TriFinance is known for its unique philosophy that puts people at the heart of the organization. The Business Unit Financial Institutions provides a Young Hub Programme in which consultants receive intensive education in various Banking areas during the first two years of their career. Furthermore, TriFinance also puts the right work-life balance in priority. Personally, you will certainly find me on the tennis court for a considerable number of hours during my spare time. A healthy mind in a healthy body is the ultimate combination to deliver optimal performances. So... if this testimonial inspires your vision about TriFinance and if you are an entrepreneurial individual who wants to take control of your own steering wheel as well, you contain all the ingredients to become a great Me inc.®'er yourself!