Some highlights:
In preparation for economic recovery, companies are already hiring
Young graduates know little about IT systems, SAP, and new technologies
Digitization is driving a transition towards new jobs that do not exist yet, but for which we need people to be employable
Kristoff Temmerman started his career at TriFinance sixteen years ago. As BCB-leader of TriFinance Ghent, he has a keen interest in people, their employability, and building the perfect Finance Team. 'As a CFO, you should make sure your team is agile and mentally flexible,' Kristoff says. 'Not only to face today's crisis but also for future developments.' As president of the Federgon Commission on Project Sourcing, he emphasizes that the sector of private labor market mediators creates real added value. 'Federgon member organizations invest in young professionals, training, developing, and mentoring them,' he says. 'But we also look ahead, trying to determine which profiles the market might need in the near future.'
Becoming a good 'technician'
You have an impressive track record at TriFinance. Can you walk us through your career?
Kristoff Temmerman: 'Before I landed at TriFinance, I was a good 'technician'. I started out as an external auditor, a role that had attracted me already as a student. I have always wanted to become a true adviser and Finance specialist. I kicked off my career at Ontex. With a small team of young guys in their late twenties, we traveled across Europe to integrate acquisitions into SAP. For being so young, we had quite some decision-making powers. We worked hard, almost 7 days a week, but it was the perfect way to learn the ins and outs of Finance and all its subdomains.
'Pitfall for me was that I might have been too ambitious, quite a perfectionist, and focused on the result rather than on the people I worked with. In a way, I was not aware that not everybody on my team had the same drive or ambition as I had.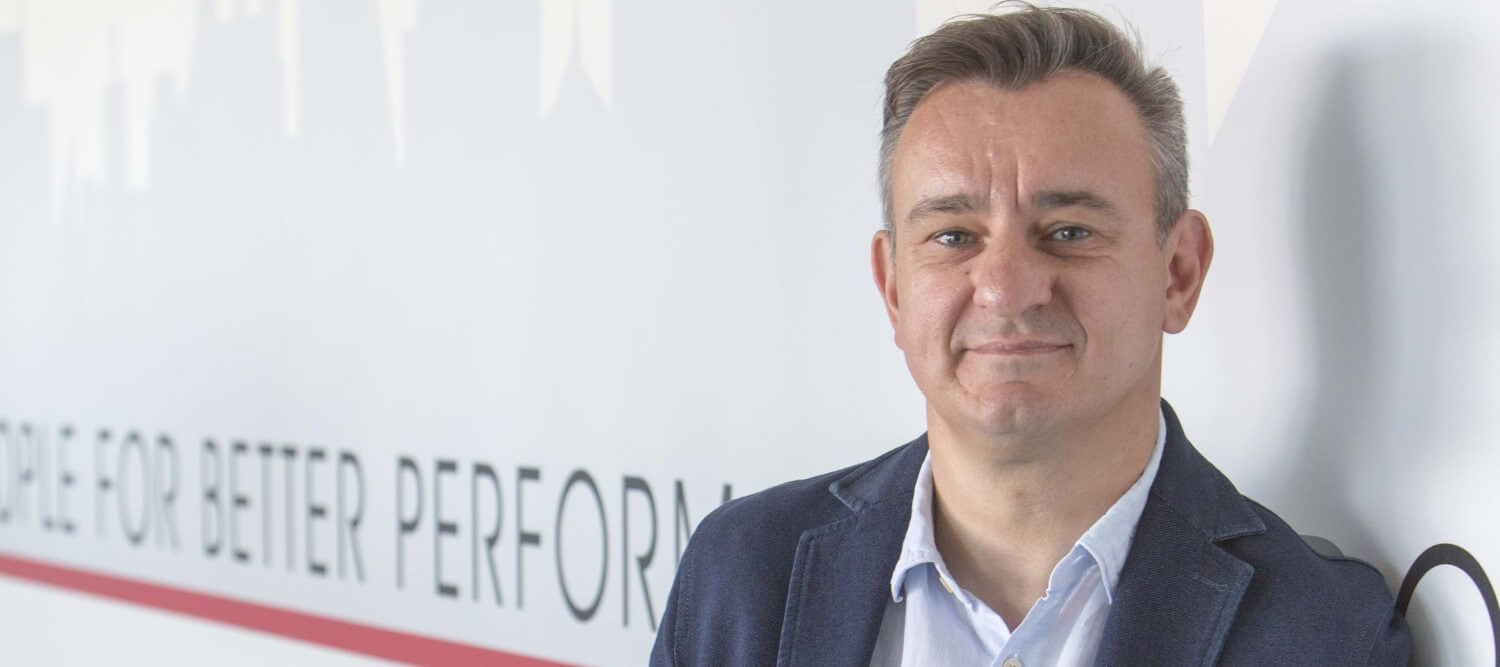 A helicopter view of the Finance domain
Kristoff Temmerman: 'After 7 years at Ontex, I switched to TriFinance as I wanted to share my expertise with multiple organizations and become a project manager, mostly working on specialty projects.
In time, I evolved from a technical role into a more technical-commercial role working for one of TriFinance's first so-called 'Competence centers'. I managed a few big specialty projects, one of which was at the City of Antwerp. That eventually led to me starting up the Public sector business unit. I enjoyed that a lot, because creating and pioneering is what I love the most.
'At that time, I discovered that the sector I actually work in is of little importance for me. I don't like to be pigeonholed. What actually counts for me is that you are willing to combine your expertise with an understanding of an organization's purpose, goal and culture and with empathy for people and their ambitions.
Being in my early thirties at that time, my goal was to become CFO of a bigger organization, but I felt too young. I also missed a strong people approach. I joined TriFinance, where I discovered that work should be fun and that teamwork is key for achieving so. The room for maneuver we get plus the variety of roles you can take on in this organization are two of the main reasons I am still here after sixteen years. The biggest gift I received from TriFinance is that I have been able to develop my people and intrapreneurial skills and that the technician I was at the beginning of my career has now evolved towards a people-oriented manager.
With baby boomers leaving the workforce and less people entering, real shortage is coming.
Kristoff Temmerman
Tackling the labor shortage problem
How difficult is it for Belgian companies to find financial profiles? We do not have the most mobile of labor markets.
Kristoff Temmerman: 'Ten years ago, the labor market was short on financial profiles, but in 2021, accountants have entered the top 10 of most in-demand professions worldwide. With baby boomers leaving the workforce and fewer people entering, real shortage is coming, and it will become structural. Just before the Covid-19 crisis, we hit the 4 percent unemployment rate in East and West Flanders, which is basically the rate of frictional unemployment caused by temporary transitions in workers' careers. Finding the right professionals will be the challenge of the decade to come.
Have finance professionals become change-averse during this crisis, not willing to change employers?
Kristoff Temmerman: 'Contrary to that intuition, we still notice sufficient mobility in the workforce, also amongst finance professionals. There is still a clear candidate market. People still switch jobs between companies, for instance. In preparation for economic recovery, some of our clients are already hiring. On the flip side, experienced professionals seem less inclined to work in consulting.
'The Belgian labor market faces some serious challenges. Our employment rate is way too low, especially in Brussels and Wallonia. To meet the costs of an aging population, we need to raise the employment rate. Digitization is driving a transition towards new jobs in new sectors that do not exist yet, but for which we need people to be employable.'
The system where companies hire professionals from their competitors sounds like a vicious circle, where everybody is trying to lure away professionals from everybody else.
Kristoff Temmerman: 'When people on your finance team are growing, it is very difficult for an organization to keep them in their zone. Only very big organizations succeed in offering their people a growth perspective. Other companies need to be realistic. People who have reached their full growth potential sometimes have to be urged to seek new opportunities elsewhere. Being a protectionist and building a golden cage for your best people is not necessarily the best solution. Retention should not be the rule, because it can be detrimental to your people's employability. People grow when they can expand their knowledge, skills, and expertise at different companies.'
Kristoff Temmerman is president of the Federgon Project Sourcing Commission
Higher education must teach students how to use the latest technologies
Belgians are notoriously famous for their low career mobility. On average, Belgian employees have three employers during their careers.
Kristoff Temmerman: 'Encouraging people to change jobs remains very difficult. There are a lot of assumptions about careers, employability, labor market models, etc. I tend to be rather skeptical about the mainstream narrative on labor market flexibility. It is easy to say that Gen Z wants more flexibility and older employees tend more toward stability, but it is more complex than that. I see many young people who are very demanding. They are eager to learn; they want autonomy in their jobs; they want to build a career, but on the other hand: they need financial stability. They too want a family and buy a house.'
What about education: are young finance graduates well prepared for real-life jobs?
Kristoff Temmerman: 'What we see is that young graduates, in general, know little or nothing about IT systems, SAP, automation, artificial intelligence, etc. They don't know how to use certain standard apps to increase their productivity. There's a clear lack of knowledge about new technologies, including the new business models that are being built on this technology. It takes a well-balanced training and mentoring program from our side to teach them how to cope with this. Plus: many people want to become a controller or financial analyst and they know the theory but definitely lack the skills and competencies that are required to perform these jobs. Our university and college curricula could use an update in those domains.'
Could automation be of assistance in tackling labor shortage, with software robots or automation in general supporting?
Kristoff Temmerman: 'Absolutely. We do not have to be afraid of technology. Nevertheless, many of our people are deployed on projects to help companies automate basic tasks in AP and AR. That is still a major pain point because there's information that has to be exchanged between companies and in different formats (post, email), plus: exceptions are exceptionally abundant. Everybody talks about automation, but there is still a long way to go. Technology has evolved, for sure, but to be honest: I see little evolution between my first SAP implementation at the end of the 1990s and today's automation. Our T&S consultants mainly support the process and create added value by sharing insights and suggest optimizations and improvements along the way.'
With the Federgon Project Sourcing Commission, we try to determine what kind of profiles our customers will be needing in the near future
Kristoff Temmerman
Necessary labor market transitions towards an 80 percent employment rate
You are the president of the Project Sourcing Commission at Federgon, the federation of private labor market mediators and HR service providers. What role is there to play for your Commision?
Kristoff Temmerman: 'As a membership organization of labor market mediators, Federgon has ten commissions that cover several labor market and HR domains, such as Interim Management, Outplacement, HR Tech, Recruitment and Selection, Career Coaching, etc. When I joined six years ago to become a member of the Commission, we discussed and developed the Project Sourcing quality label that covers legal dimensions of Project sourcing, the deontological code, contract quality, and the likes. As a federation, Federgon wants to have an impact on political decision-making, but public employment organizations like VDAB or Forem also look at Federgon for input and advice.
'We are now refocusing on the importance of our sector in the Belgian labor market. Though many things have been organized well, we try to emphasize that our sector creates real added value in that market. It's the Federgon members who invest in young professionals or people who want to make a career move by training, developing and mentoring them. We also look ahead, trying to determine what kind of profiles our customers will be needing in the near future. We hire those people, even though there is a risk we can't employ them right away.
'With the Project Sourcing commission, we are now working on a white paper that analyzes the role of project sourcing in Belgium's labor market transition. One of Federgon's major themes for the 2020-2030 period is the transitions that are needed to take the Belgian labor market towards an 80 percent employment rate.
People remaining in their comfort zone can make team complementarity into a pitfall for the individual
Kristoff Temmerman
How to build a complementary team
One of your prime concerns is team optimization. How can organizations build complementary teams?
Kristoff Temmerman: 'First of all, you should allow complementarity to grow spontaneously. If you want to build a complementary team, you need people to collaborate. That is the responsibility of the team leader as well as of the team itself. I myself prefer that team members seek out their complementarity. Together, they should define goals and ambitions, see which skills, competencies and capabilities are needed to achieve those goals, and from there define team roles.
'For the team to be successful, however, it is crucial to ensure that people continue to pick up their roles and responsibilities. Complementarity does not mean that every team member has a specific function. It means that the different roles you take on are supplemented and completed by your colleagues.
'The focus should be on important questions like: 'How do you stay agile in your career?',' How do you create agile teams?' and 'How to deal with lifelong learning?'. That can even make team complementarity into a pitfall for the individual. If team members remain in their comfort zone only performing tasks they are good at, they might be compromising their own development.
'People should get the freedom to perform new tasks they never thought they would find interesting. If the result is positive, they are given the space to develop these skills and competencies. All the while, it is important to set boundaries. And, naturally, if you talk about complementarity in Finance, you must make sure that compliance, financial analysis, business support, processes, and systems are taken care of. For managers, these are the basic areas to have covered by your team. To make sure that you have all those areas covered, it is important to have competencies objectified by an assessment or scan, for instance.'
What should be on the top of a CFO's list these days?
Kristoff Temmerman: 'Working capital management. Cash is still king. Next to that: make sure your team is agile and mentally flexible, not only to face today's crisis but also for future developments. Create an environment that your people and future employees find attractive. That should be an absolute priority. The days of 9 to 5 in an office environment are definitely over.'