Insights from the CFO Services Credit Management Survey (4)
Offer different payment terms to different customers

Dunning strategies take a structured approach to each stage of collection management
Payment plans are often a good vehicle to maintain a healthy customer relationship
Collecting cash from customers is a key area in the accounts receivable administration. Any company must have a rigorous system to ensure that customers pay in a timely fashion. In this fourth and last article of our series on Credit Management, we take a look at the practices adopted by Belgian companies to issue invoices, set payment terms and collect payment.
Billing practices and credit terms
Survey results show that Belgian organizations send 70 percent of their invoices after shipping the goods or delivering services. Respondents express a preference for short credit terms with an overwhelming majority of companies granting 30 days or less.
We know that a company generally adopts the payment terms that are most common in its industry or country. However, a company may well offer different terms to different customers, depending on their credit rating and the company's business relationship with the customer. In our panel, the respondents admit variations, with 6 out of 10 companies having adopted more than 5 different payment terms in their commercial practices.
Dunning and the timely payment of invoices
Having sent the invoice, a company must develop a process to ensure customers pay in a timely fashion. Dunning is the process of methodically communicating with customers to ensure the collection of accounts receivable. Techniques available are monthly statements, chasing letters, chasing phone calls, personal approach, stopping supplies, legal action, and the use of external debt collection agency.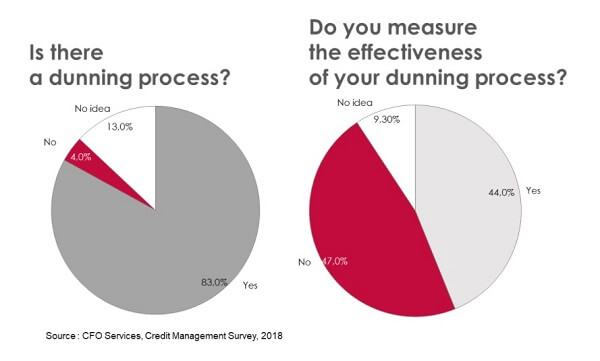 The good news is that over 80 percent of Belgian managers claim to have a dunning process in place. More surprisingly, nearly 50 percent of respondents admit the absence of measurement on the effectiveness of the dunning process.
According to Onguard, a leading provider of credit management software "Dunning strategies take a structured approach to each stage of collection management. The right strategy determines how many times and with what form of communication to chase a customer before launching legal proceedings. More efficient teams, reduced overdue payments and increased cash flow are all results of such a strategy".
Managing late payments
According to the latest barometer published by Atradius, 92 percent of Belgian companies have reported late payments from their B2B customers. A statistic consistent with our survey observations with approximately 30 percent of invoices being paid late.
The reason for late payments can range from a poor accounts payable process to serious cash flow issues. Collecting is a delicate exercise requiring to stay professional throughout the dunning process as the customer's future business might be worth more over the long run than this one late payment.
For Audrey Van Simaeys, Project Consultant Credit Management "the value of a collector extends beyond the harsh collection of late payment and requires the elaboration of solutions to help customers eventually facing a temporary difficult cash flow position. A payment plan is often a good vehicle to maintain a healthy relationship".
However, if all else fails, companies need to consider legal action. Our survey reveals that Belgian companies predominantly take between three to six months to initiate legal actions.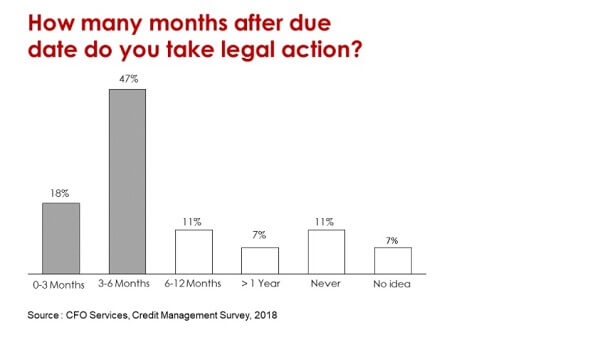 The preferred options for our panel include consulting a lawyer or a debt collection company.
For Michiel De Weerdt, Business manager Credit Management "it is important to do a cost analysis before taking legal steps and check if legal fees are worth the risk, or if you should instead cut your losses and write off the debt".
This article is the fourth of a series that explores current credit management practices, offering ideas to improve the financial management and controls over the sales process. The series is based on an online survey that drew responses from more than 60 Belgian companies of all sizes, with questions extending over governance, organization, performance measurement, operational practices, and technology adoption. The Survey ran from September to December 2018.