Talent shortage is among Belgian CFOs' top priorities for the years to come
1 in 2 CFOs says no wage increase on top of indexation is possible
2 out of 3 CFOs consider cutting costs to address rising prices for energy, raw materials, and shipping
Top 5 concerns for Belgian CFOs
Belgian CFOs worry a lot about talent shortage. For 7 out of 10 CFOs, it is a top priority for the years to come, only to be preceded by the pandemic and rising inflation, a concern shared by 8 out of 10 of their peers. Data security issues and economic crises complete the top 5 global developments that Belgian CFOs perceive as the most problematic.
These concerns emerge from research that the TriFinance advisory unit CFO Services conducted in collaboration with CFO magazine.
At the time the research was conducted in December 2021, only one in four Belgian CFOs thought a military conflict between East and West was problematic.
Belgian CFOs share these concerns with their American peers. The top three most pressing concerns in the most recent edition of the renowned CFO survey of Duke University's Fuqua School of Business consist of 1) Labor Quality /Availability, 2) Cost Pressure/Inflation and 3) Supply Chain.
Inflation and Wage Indexation
'CFOs are in the best position to flag risks that may affect their companies,' BCB leader Alexander Van Caeneghem says, 'It is really important to know what they worry about. Phenomena such as inflation, rising costs, and wage indexation have a direct impact on Belgian companies, as do supply chain disturbances and disruption by digital transformation and technological innovation. These issues are not to be downplayed.'
Inflation in Belgium has risen to 8.04 percent in February 2022, the highest level since March 1983, when inflation peaked at 8.92 percent. Based on a Health Index rise of 'only' 4.4 percent for 2021-2022, Belgian private sector companies must reckon with an estimated total salary mass increase of 6.6 billion euros on a total wage mass of around 150 billion euros, Voka economist Bart Van Craeynest calculated. Depending on collective sector agreements, CFOs will have to reckon with extra wage increases for the year to come.
The survey conducted by CFO Services shows that many CFOs a wage increase on top of the index is out of the question: at the moment the survey ran, 1 in 2 CFOs said outright that there can be no wage increase on top of the index in 2022, though 1 in 3 still thought it to be a realistic possibility for their companies.
How to deal with rising prices for energy and transportation
Asked for the effects of rising prices for energy raw materials, parts and transport, 2 out of 3 CFOs said they would have to cut costs, and 1 out of 3 said they would scale back their investments. Rising prices will also impact Belgian companies' hiring practices, with 1 in 5 CFOs saying their company will hire fewer people as a result, which will only exacerbate the capacity problems in our current, very tight labor market.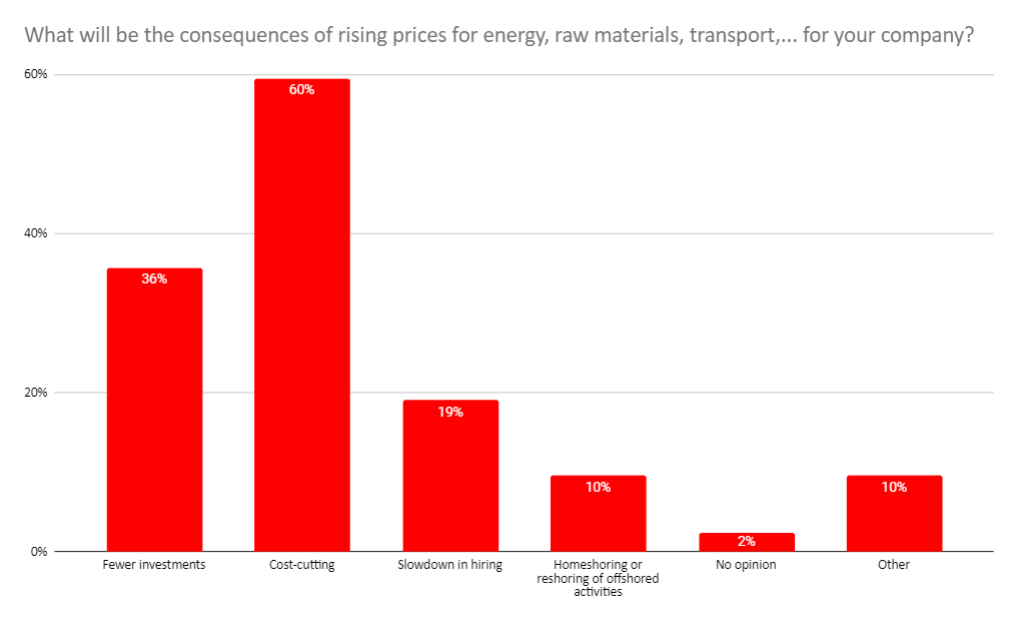 'There is no recipe for success to tackle the problem of rising prices,' CFO Services client partner Filip Ceulemans says. 'Reducing costs with due diligence is good practice in many cases, especially in the short term. In the long term, we need to broaden our perspective. Other, innovative solutions exist to address scarcity and supply problems. Just think of doing more with less. Try making processes transparent and optimizing or reengineering them. Think of detecting and eliminating waste. Develop new business models, or try to set up collaborations between companies. We are convinced that there is still enormous potential to work more efficiently, which can provide an answer to the rising prices.'
Read the interview with Alexander Van Caeneghem and Filip Ceulemans on the website of CFO magazine (Dutch): 'Permanente transformatie is vandaag business-as-usual'.
Read an article on some research findings: 'Continuous transformation is business-as-usual these days'
-