Do you sometimes envy those lucky people who seem to have endless talents? Good news: talent is overrated. By consciously practicing, anyone can grow. Leave your comfort zone and use targeted feedback from your development zone to achieve the impossible. And who knows - maybe you work for an organisation that helps facilitate your growth.
During our first TriHD High Tea on March 28th, we engaged in dialogue with several HR professionals about mentoring. Mentoring is one of the tools that organisations have to guide employee growth. It helps people improve their job performance and/or advance to a higher level. Sounds tempting, but how do you implement this in your company?
Sara Wouters and Evelien Boon from TriHD and Wiet Vandormael from Artsen Zonder Grenzen shared some critical success factors and kicked off an enriching debate.
Some major takeaways from this event:
1. Integrate mentoring into your organisation's strategy
Define clear goals for your mentoring program. For example, faster onboarding and shorter training periods, increased employee engagement and retention, quality control and risk management, wellbeing, and so on. Align these goals with your organisational strategy and build in enough evaluation moments. Use this to convince senior management of the Return on Investment.
2. Ensure a match made in heaven and freedom of choice
Everything starts with the right match between mentor and mentee. Think this through carefully, define some matching criteria, and provide a process if the matching is not optimal. Give mentees and mentors enough freedom of choice. Feeling like you have a say in the matter motivates and gives a sense of responsibility to make the most of it. For example, you can give the mentee the choice between several potential mentors.
Whether a mentoring relationship should be entirely voluntary is a toss-up. Sometimes people have cold feet or see mentoring as a sign of weakness. Normalizing mentoring by embedding it at all levels of the organisation, up to the executive level, can help maintain the voluntary basis while motivating everyone to participate in the program.
3. Create psychological safety
Mentees will only speak freely and take feedback to heart if they feel safe. Confidentiality is key. Easier said than done, because, in practice, mentors sometimes hear things they would rather escalate. Moreover, mentors are sometimes expected to serve as antennae. This does not have to compromise psychological safety, as long as you have a clear framework and agree on what is and what is not confidential.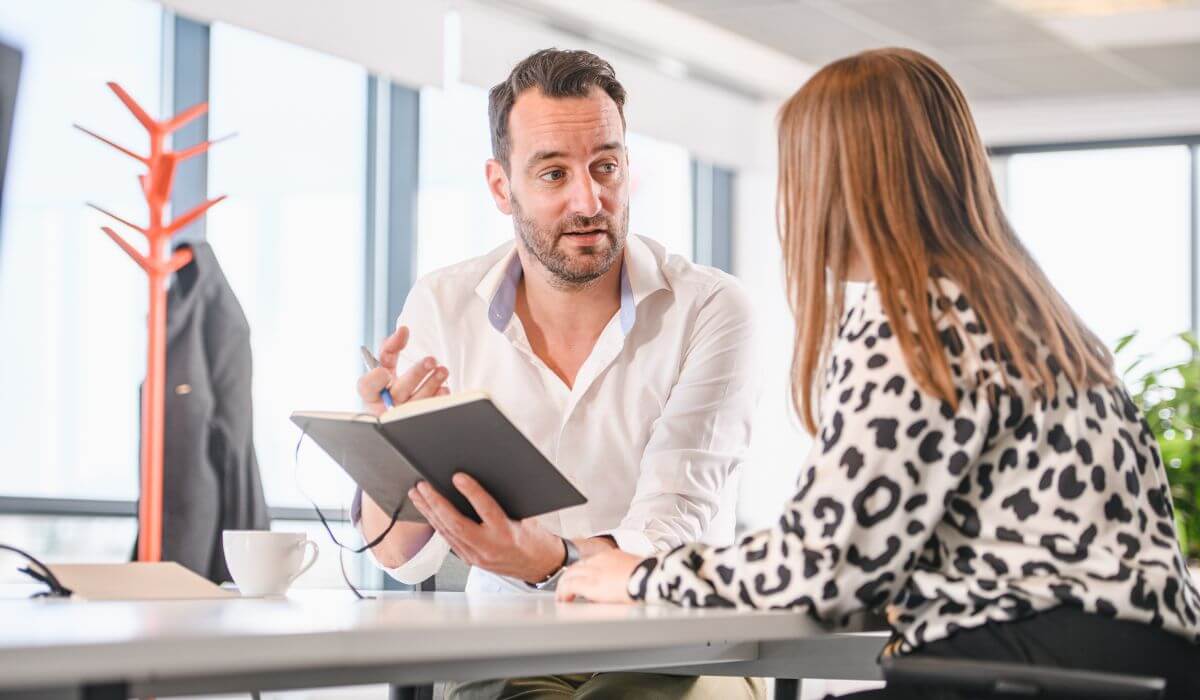 4. Don't forget the mentors
Support and train the mentors. Everything depends on their competencies. Provide a quality selection process and a targeted training plan. Train mentors not only in the process but also in the skillset of a being good mentor. Think empathetic ability, listening, summarizing, probing, giving feedback, setting clear goals, encouraging, and challenging. Let experienced mentors 'shadow' new ones and organize meetings where mentors engage in dialogue with each other. For organisations that want to take this a step further, there are accreditation programs, such as the one offered by the EMCC (European Mentoring and Coaching Council). This also helps to motivate mentors.
Don't forget to look at the benefits for the mentors as well. Becoming a mentor is a form of recognition and appreciation and boosts the engagement of this group of employees. It can also be a solution to let certain people acquire people management skills when there are no opportunities in the traditional hierarchy.
5. Structure and processes are vital
Successful mentoring programs are well thought out, documented, and rolled out organisation-wide. Who do we want to mentor, and who can be a mentor? How will we match people? How often will they meet? How does a mentor relationship start and end? How do we organize mutual feedback? What agreements do we make around psychological safety?
Don't rush into it and give it time! Mentoring often starts very organically and informally. If the buy-in is good, it can grow into a full-fledged program.
Give the mentor-mentee relationship as much structure as possible. You can start with a self-appraisal from the mentee: where am I and what do I want to work on with the mentor? Then you can formalize mutual goals. Also, provide recurring mutual feedback moments and a closing moment to evaluate whether the objectives were achieved.
6. Internal branding gives your mentoring program wings
Successful mentoring programs are visible. Ensure sufficient internal communication, make it a program that mentees and mentors can be proud of. Share success stories.
7. HR as facilitator
HR professionals play a facilitating role: for which learning needs do we use mentoring, which people do not find their way to mentoring, what barriers are there, how do we organize quality control, and so on. Also, look for common denominators: issues that often recur, or alarm bells that cannot be openly addressed due to the trust relationship. Work on them, if necessary, anonymized.
8. Experiment with the format
Once your mentoring program is established, you can try new things to constantly optimize it. Traditionally, the mentor is the more experienced employee, and the mentee is the less experienced one. Look at other forms, such as group mentoring and peer mentoring. Or why not try reverse mentoring, where younger employees mentor older employees to give them a different perspective on the world today and help them thrive in transformation processes?
Interested to implement mentoring in your organisation? Stay tuned for our next High Tea event on mentoring. Can't wait? Contact us via info@trifinance.be.