On National Telework Day, we asked our Project Consultants about their experience with hybrid working. Wait… is it even possible to work from home as an external consultant? Do they have the same flexibility as permanent employees? Find out for yourself!
Is it possible to work from home?
Yes, it is. Most companies apply the same work-from-home policy to project consultants as they do for their permanent employees. What does this mean in practice?
Most colleagues can work from home for 2 days per week, which is in line with their preference. However, there are some exceptions.
"The guideline was 60% remote work, where everyone had the space and freedom to adjust it according to their preferences and home situation. Meetings are typically held online unless you arrange them otherwise," explains Martine Groenen, looking back on her most recent project at an international media group.
"I can choose how many days I'm working from home," says Fien Stiers. She is currently working as a Payroll Advisor at an international HR services company.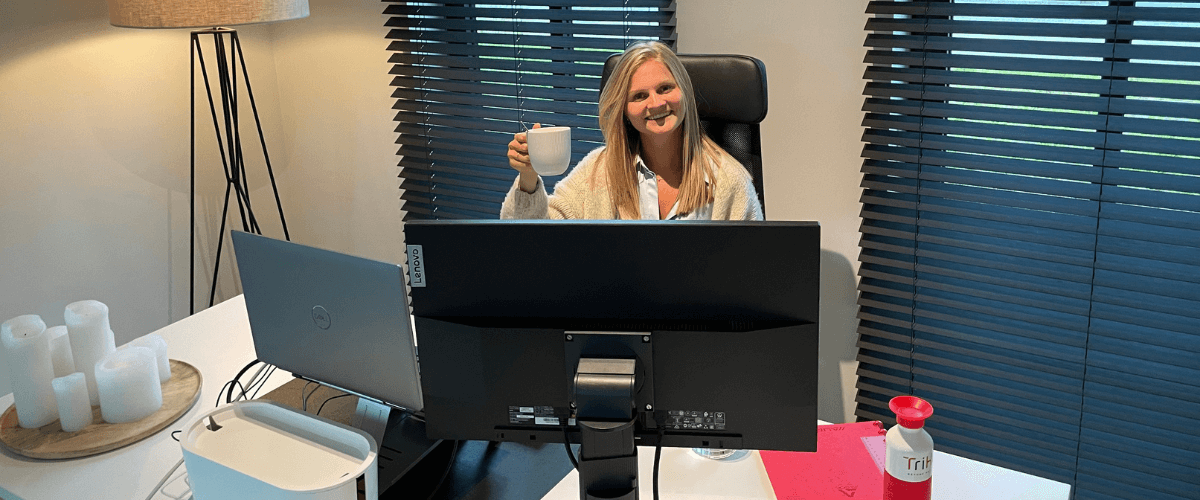 Is it important to be able to work from home?
The answer is unanimous: "Yes, I prefer the variation of working from home and at the office".
Magalie Van der Auwera is working as a Recruiter at an international chemical company. "Being able to work from home - to have that flexibility - is a real energy booster for me, but I prefer to plan my face-to-face interviews with candidates physically."
Working from home means focus time, fewer stimuli, less time in traffic, more latte macchiato & croque monsieurs, the opportunity to combine work with a hobby or renovating a new home, and overall, a healthier work-life balance.
However, it is all about balance. "When I'm at the office, I enjoy the social interactions, and when I work from home, I benefit from the peace and focus that I might have less on the busy, social office days," says Martine.
According to Kimberly Gijsen, it is important to regularly meet with your colleagues, so you don't lose connection with your team. "Also, from an HR perspective, you have to stay in tune with the company's overall sentiment." Kimberly is an HR Recruitment and Project Specialist for an international company specializing in animal feed.
Are there any challenges?
"At the beginning of a project, working from home is more difficult. You don't know your team or the systems they're working with. However, it is important to get up to speed as quickly as possible because you'll only be there for a few months."
Some tips from our colleagues:
Plan a daily, recurring meeting with your team
Record meetings about systems/tools, so you can play them on repeat afterwards
Ask questions via (group)chat
Join the team on a common day at the office
Make sure to have a proper headset for video conferencing and a dedicated working space
Work at the offices of TriFinance
Project Consultants also have the option to work at an office of TriFinance. Most colleagues choose to work at the offices of TriFinance at least once a month rather than from home. It helps them feel connected with the other Project Consultants and the internal team.