Main takeaways
Sustainability reporting is more than compliance. It is about transformation.
A robust data & process framework is key.
Do not delay your implementation.
A solid cross-functional governance structure led by the board is indispensable to ensure stakeholder buy-in.
In the coming years, the sustainability landscape will be significantly impacted by ESG compliance. To assist organizations in addressing these challenges and requirements, TriFinance is organizing a series of webinars on related topics to share meaningful insights and best practices.
The first webinar, 'Navigating the Sustainability Landscape,' featured insights from TriFinance experts Mario Matthys and Stéphanie Struelens, who shared their knowledge with participants from various companies. They discussed the ESG compliance challenges that all companies face and the different steps they are taking in their sustainability journeys. Gaëlle De Baeck, Sustainability Lead at TriFinance, hosted the session.
The current sustainability reporting landscape and its impact
'How to organize yourself within your organization as challenges are quite impactful' is probably the most important question for many companies today. Some have taken serious steps in the past years or months based on their industry and compliance needs. Others are still investigating how to get organized internally to deliver the required data on time.
The upcoming ESG reporting consists of the following directives:
CSRD, EU Taxonomy, CSDD Directive, SFDR (mandatory framework, EU driven)
ISSB (non-mandatory framework, international)
Compliance with CSRD is particularly urgent and impactful for most companies, starting with the double materiality assessment, which is mandatory for all companies reporting under CSRD.
"Double materiality" refers to the obligation that a company must report both on how its business is affected by sustainability issues ("outside in") and how their activities impact society and the environment ("inside out"). The double materiality assessment evaluates the financial and impact materiality of sustainability topics, determining the minimum scope of sustainability reporting alongside the mandatory topics in ESRS 1 and ESRS 2.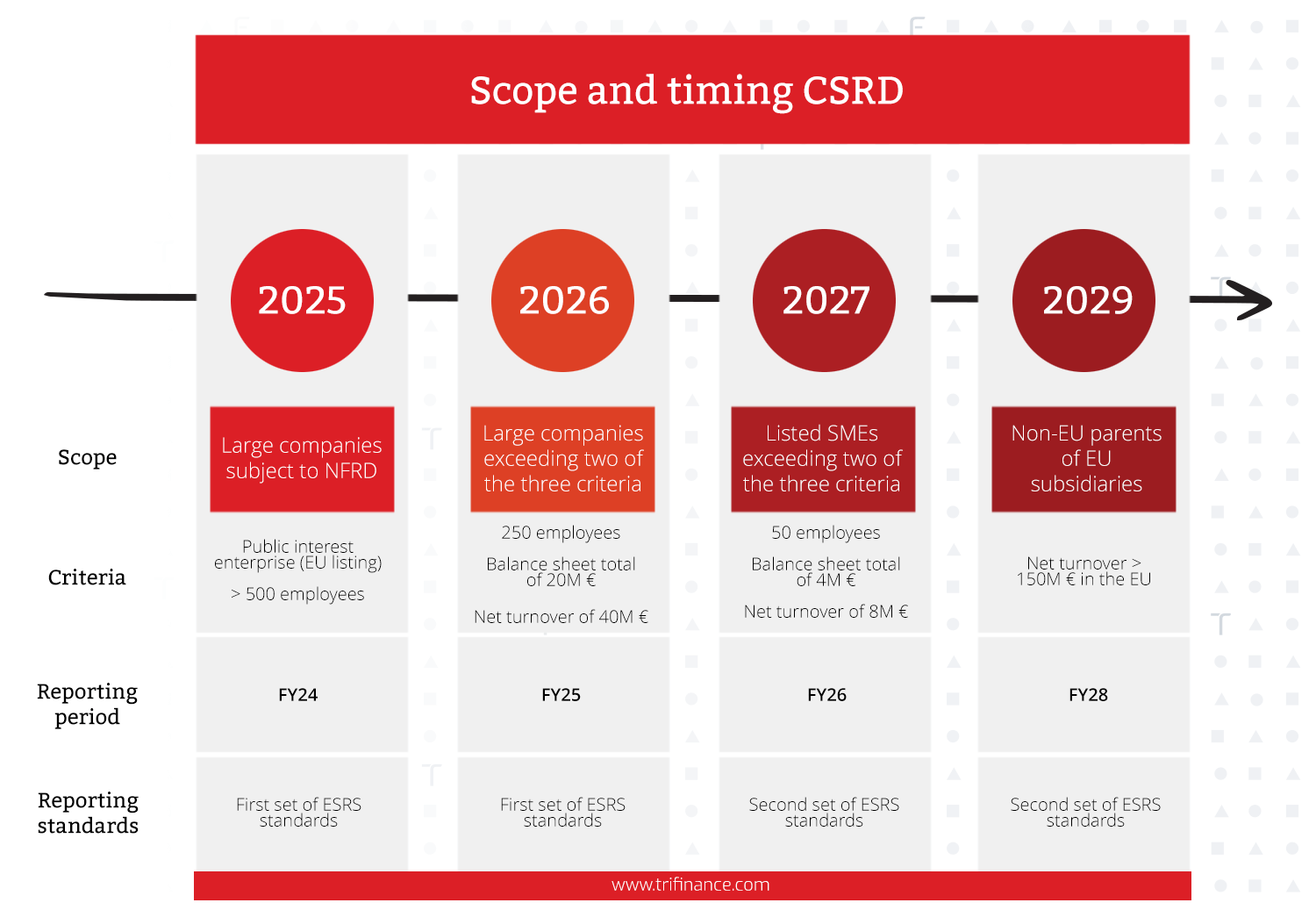 Compliant and efficient sustainability reporting. Not a mission impossible.
Mario Matthys, Expert Practice Leader Corporate Reporting
Best practice for your sustainability journey
How to get started with your sustainability journey? 'We recommend organizations to first develop a well-defined strategy," Stéphanie Struelens says. "Before you start to build a data model or implement tools, you need a comprehensive plan, including an overview of the impacted processes and data points." That is why TriFinance proposes the following 6-step approach to your CSRD journey to create maximum impact.
Awareness: create the proper awareness - among the Board and all employees - beyond reporting requirements;
Double Materiality Analysis: run the Double Materiality Analysis to identify material topics and their strategic implications;
Fit-gap analysis: perform a fit-gap analysis between the directive's requirements and the organization's readiness and a high-level data- availability & quality assessment, resulting in a specific action plan;
Process & Data Framework: take the time to design a framework with the future data capture to reporting processes and related data models (including detailed work instructions per responsible);
Data modeling & Corporate Performance Management: define detailed business requirements for the data management model & roll out the implementation with regard to data gathering, data validation, data consolidation, transforming raw data in KPI's & metrics and data reporting;
Integrated report: write and validate your report merging financial and non financial data.
Throughout the journey, it is crucial to adapt and monitor the internal control framework and strive for continuous improvement.
Mario Matthys: "Companies often don't see the whole picture. The impact of the sustainability journey to become compliant should be clear from the start. By carefully designing your journey and final destination upfront, you will soon experience that being compliant is a realistic goal. The journey will be successful when the plan eventually comes together."
A driver for transformation
The central message of this first webinar is that sustainability is not just about reporting and compliance. It's about transformation.

While the impact on most companies is significant, the advantages include improved data quality, the adoption of a standard framework, and assured audit compliance across all directives.

In addition to compliance, it's essential to embrace the following challenges and recognize them as opportunities:
Enhancing communication and branding: Embrace transparency to strengthen your ESG communication efforts and bolster your brand image.
Environmental and societal impact: Seize the chance to make a positive impact on the environment and society at large.
Future-proofing through sustainability: Investing in sustainability can future-proof your organization by:

Improving operational efficiency
Attracting new clients and top-tier talent
Crafting innovative strategies
Enhancing your reputation
Setting your organization apart: By investing in sustainability, you can distinguish your organization from the competition, enhance its overall value, and effectively mitigate risks.
Lastly, consider your company's role in contributing to a better environment, creating a more substantial social impact, and promoting improved governance practices.
Sustainability is a driver for transformation within your organization
Stéphanie Struelens, Business Manager Financial Institutions & Practice Lead Process Management
In conclusion, the key message of the first TriFinance ESG webinar is that sustainability goes beyond mere reporting; it initiates a journey toward transformation. While the impact on most companies is significant, the advantages include improved data quality, the adoption of a standard framework, and assured audit compliance across all directives.