Your challenges
Implement new viable business models
Create a customer-centric strategy for your business
Redefine and optimize your Operating model
We bring success to transformations in financial institutions. We co-create with our clients to help them build future-proof and sustainable organizations.
Business Agility
The ability to respond to changes is no longer a nice to have but a must-have to survive and thrive in the future. We see business agility as an imperative requirement for financial institutions in a changing market reality with constantly evolving technology, changing customer behaviors and facing industry disruption. An agile mindset supported by the appropriate tools and processes is key for Financial Institutions to deal with this new normal and ensure customer satisfaction.
We help you through the different steps to reach business agility and support your new ways of working (Scrum, Kanban,...) with a strong focus on your most important asset: your people.
Target Operating Model
To improve your departments' internal operations, we provide you with added-value recommendations that optimize your organization's change management. Our approach is tailor-made, pragmatic and focuses on three key dimensions: Process, People and Systems.
Our main deliverables are:
A (re-)defined mission statement and longer-term vision, inspiring your best people
A (re-)defined governance framework, empowering talented people while maintaining control
An assessment of the key processes impacting the organization
A quantitative and qualitative assessment of your teams, leading to a talent-based workforce planning
A (re-)defined organization and a reviewed operating model, balancing efficiency and operational risk management
Our approach is tailor-made, pragmatic and focuses on three key dimensions: Process, People and Systems.
New ways of working
In many organizations, cultural legacy jeopardizes the flexibility which is needed in today's changing context. We help our clients reinvent their workplace, rebuild their workforce and build strong, future-proof organizations.
Based on TriFinance's own Me inc.Ⓡ company philosophy, we help you answer your employees' search for meaning and purpose, supporting you in the creation of an environment that is favorable for taking ownership and accountability, trust and engagement and that stimulates entrepreneurship in your organization.
Process Management
Financial Institutions need to create process transparency, rethink their processes and apply continuous improvement techniques to successfully optimize their business, working towards operational excellence. We support our clients at redesigning their processes to increase the efficiency of the processes and to decrease the throughput time. Read more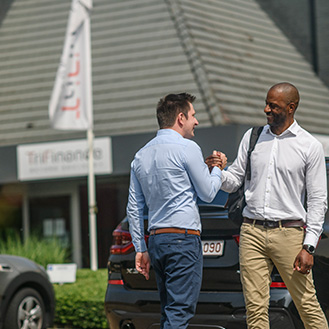 Get in touch with our expert.
Questions about how we can support you?
Contact us