Key Messages
Continuous new challenges keep the job of a consultant interesting

Combining on-the-job learning and learning from peers
Gaining insights into a wide range of topics
Think actively with your client for points of improvement
Taking opportunities and being open about your expectations can skyrocket your growth and further your career. The support of TriFinance colleagues, mentors, and the internal team is key to enabling this personal development.
"Putting employees first", more than a catchphrase
Before starting at TriFinance, I worked for several years in operational environments in a large retail bank and its subsidiaries: first in one of the office branches and afterwards for an online brokerage platform.
Since my start at TriFinance, I participated in several projects in a private bank with longstanding roots in both Belgium and the Netherlands. The bank has been working with TriFinance for transition & support and pragmatic advisory services for some time. The hands-on approach and the different skill sets the consultants have to offer are the main but not the sole reasons for this continued relationship.
Personally, I chose TriFinance because of its belief in putting employees first. Over the past two years, I experienced that this was not just a catchphrase but instead acts as the backbone of the organization. Moreover, as I need new challenges to keep my job interesting, working as a consultant is a perfect fit.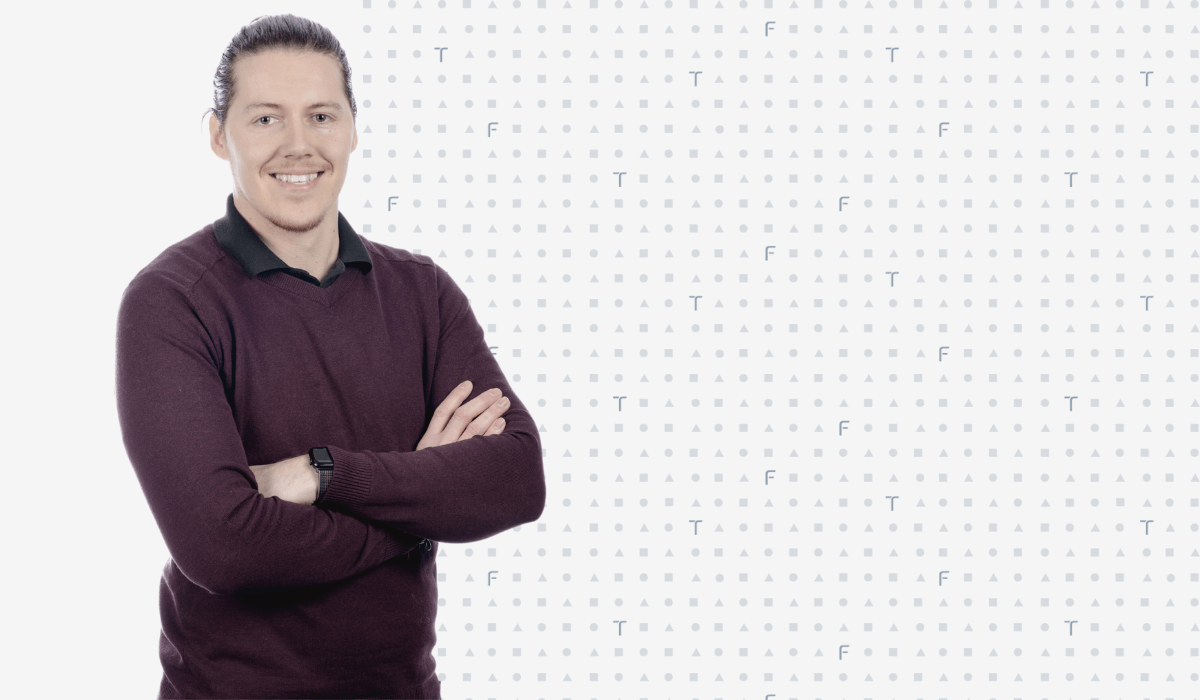 How one project leads to another
Coming out of operational environments, starting my journey as a project consultant in a similar role was a logical step. My first client needed support within the brokerage and the payments teams. I got the opportunity to start in a field I did not yet know: the payments division. After successfully fulfilling my mission, the project for which we offered operational support was still in full swing.
After talking with the TriFinance business manager and mentor, I was asked to join one of the project teams working on a large integration project at a private bank. The operational knowledge gained in my previous mission provided me with an excellent basis to work on a wide range of activities within the project team. These went from process optimization and acting as a challenger, to software testing, over writing work instructions and giving training about internal and external communication.
Once the project went live, I supported the aftercare of the project together with other project members by adapting work instructions, setting up and maintaining a support structure for the Belgian branch and hosting Q&A sessions.
Personally, I chose TriFinance because of its belief in putting employees first.
Jonathan Maerevoet
Be the link between business and project
At the end of aftercare, another opportunity arose to join a team to work out further implementations for the same client. This team's objective was to be the link between the business and project side of the private bank. During this time, I acted as a Co-stream Lead during a discontinuation and integration project and as a team leader of the team responsible for the aftercare of said project. Again, these opportunities were carefully discussed with TriFinance and supported by great mentoring.
Throughout the last projects, Covid-19 provided a major challenge since all project activities, including training, go-live and aftercare, were done from home: an extra large hurdle to jump, but a successful one.
Practice to reveal secrets
My role as an operational support officer revealed quite some secrets about payments, payment systems and the workings of the private bank to me. Thanks to the strong mentoring, my colleagues and I were able to challenge and deliver more value to the customer by adopting some nice quick wins. Both projects had a successful go-live, and the blow of the impact was significantly reduced for clients and colleagues by the support provided during aftercare. Thanks to my mentor and support from our internal team, I was able to hone my skills and gain insights into a wide range of topics such as people-, project-, and change management, as well as customer- and colleague journeys.
I believe that the combination of formal knowledge, on-the-job learning and extensive support from colleagues enabled me to grow faster.
Jonathan Maerevoet
Learning on the job and from peers
Besides learning during projects at the client, I gained clearer insights for my journey as a consultant by aligning frequently with mentors and other TriFinance colleagues, formally and informally. TriFinance strongly encourages us to have a yearly alignment meeting to discuss our ambitions. While preparing for this, I gained valuable insights by looking back at my achievements, and I became more aware of my possibilities for growth.
By following both internal and external training such as Agile, User stories, the basics of scaled agile frameworks and change management, I could better understand the different actions in the project I worked on and the impact of the decisions made by the project leaders.
I believe that the combination of formal knowledge, on-the-job learning and extensive support from different TriFinance colleagues enabled me to grow faster than I expected when starting my career as a consultant.
For more info you can always contact Jonathan Maerevoet (jonathan.maerevoet@trifinance.be or +32 2 712 08 90).
For more case studies: take a look at our website www.trifinance.com