Kevin De Clerck is 37 years old, lives together with his 2 daughters in Roeselare and has been working at TriFinance for 4 years now. Fully in line with his interests and ambitions, he focuses on controlling assignments. Kevin: "Controlling has always been the common thread in my career. A job as a consultant, working in different companies: it offers me the opportunity to grow fast, work in different environments and develop my soft skills. Yet that strong growth also goes hand in hand with a good work-life balance."
"I started my career as assistant controller at an electronics manufacturer and later filled positions as financial controller and business controller at the same company. Before I came into contact with TriFinance, I had never really considered stepping into consultancy, simply because I did not know that this was also possible as a controller. During a first conversation with TriFinance I got a good idea of the possibilities, and after 4 years I still stand by my choice."
"TriFinance has a very wide range of e-learnings that allow you to deep dive into a particular topic. For example, I've recently been studying Power BI and RPA."
Stepping into consultancy
Why would someone make the switch to consulting from a permanent position as a controller?
"Personally, I find the variety between different projects a great added value. This stimulates you to keep growing in your role and feeds your personal learning curve. To further develop my expertise in controlling, I find it very interesting to work in different companies and get to know their processes. As a consultant you not only end up in a different sector or company each time, you also get to work with different people. That is what stands out the most for me. That is how you develop your soft skills. Your problem-solving abilities, how you work with different people and in different teams, your communication skills... You always take those experiences with you to the next project, which increases your adaptability and makes you more versatile."
Broad network within TriFinance
"As a business controller, I am personally very technology and process minded. I find it interesting when I can think beyond the daily tasks at the client. Thinking along about how processes can be set up or handled more efficiently gives me energy. I get a lot of satisfaction if I have been able to leave my mark at the end of the project and have made a lasting impact."
"At TriFinance you have the opportunity to take a lot of training courses. We recently even launched a Controlling Academy for those who want to take their first steps in this field. There is also an extensive range of e-learnings that give you the opportunity to delve deeper into a particular topic. Recently, for example, I have been studying Power BI and RPA. Moreover, you can always turn to internal specialists for detailed advice. For example, on a previous project I was able to co-initiate Power BI-driven reporting, which not only gave clearer business insights, but above all led to more efficient, faster and less error-prone reporting, freeing up time for the added value work, data analysis.
In this way, you not only keep learning yourself as a consultant, but you also provide added value for the client."
"Every consultant gets a mentor on his project. For a while now I myself have also been mentoring several consultants."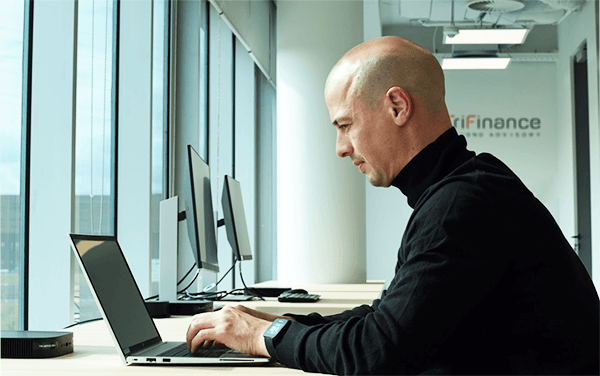 Mentoring and informal meeting opportunities
The fact that, as a consultant, you will find yourself in a new environment and tackle different assignments each time does not mean that you are completely on your own. The mentoring program also plays an important role in this. "Every consultant gets a mentor on his project and I also grabbed the opportunity to become a mentor myself. As a mentee, I can still gain a lot of technical and best practice insights. In addition, my role as a mentor allows me to share my knowledge with colleagues and further develop my coaching talents."
At TriFinance, there are also many opportunities to meet fellow consultants in a more informal setting. "Every month events are organized where you have the opportunity to catch up with fellow consultants over snacks and drinks. So although you usually work on site at the client's premises, there are plenty of opportunities to meet your colleagues, get to know each other and exchange experiences from your project or just catch up."
"I myself live in West Flanders and now work on a project about 5 kilometers from home."
Feasible challenges
As a project consultant at TriFinance, your personal growth is key. To grow, you have to step out of your comfort zone, but that does not mean that the cliché image of the consultant working under high pressure and making very long hours is true. Kevin agrees: "My experience shows that the cliché image of 'the consultant' is not true. The work-life balance sits well for me. For example, there are flexible working hours, depending on and in consultation with the client, of course, and via MyFlexReward, our cafeteria plan, you have the option of extending the standard 32 days of leave. This makes it perfectly feasible to combine your job with a family life. I have not yet experienced a situation where the customer has expectations that turn out not to be achievable, but should this occur, I would certainly be able to discuss this within TriFinance."

"I really feel that TriFinance takes into account your needs and expectations as a consultant. First and foremost around content and what type of project you would like to tackle, but also in terms of practical matters such as distance and commuting. I myself live in West Flanders and now work on a project about 5 kilometers from home. My previous project was also within cycling distance. Obviously this is not the standard, but because TriFinance has a local presence in the different provinces, there is always an interesting project within a reasonable distance."
Also looking for personal growth combined with a healthy work-life balance?
Do you, like Kevin, want a job as Business Controller, where you can realize your personal ambitions with an employer who really listens to you, and where there is room for a healthy balance? Then be sure to check out the vacancy below or dive into our other job offers. Or send a message to Eveline Michiels for an introductory interview.