Flashback to late 2017: I was on the verge of graduating as a commercial scientist, contemplating my career path. Finance had always held a strong appeal to me, yet I remained uncertain about the specific role I wanted to pursue within this field. With no clear direction in mind, I decided to become a consultant, believing it would offer an excellent opportunity to explore and discover what truly suits me.
Fast forward to 2023: I now find myself working as a Business Analyst on a mobile app project at a major bank. How did I arrive at this point? Allow me to take you on a journey through the past six years of my experience with TriFinance.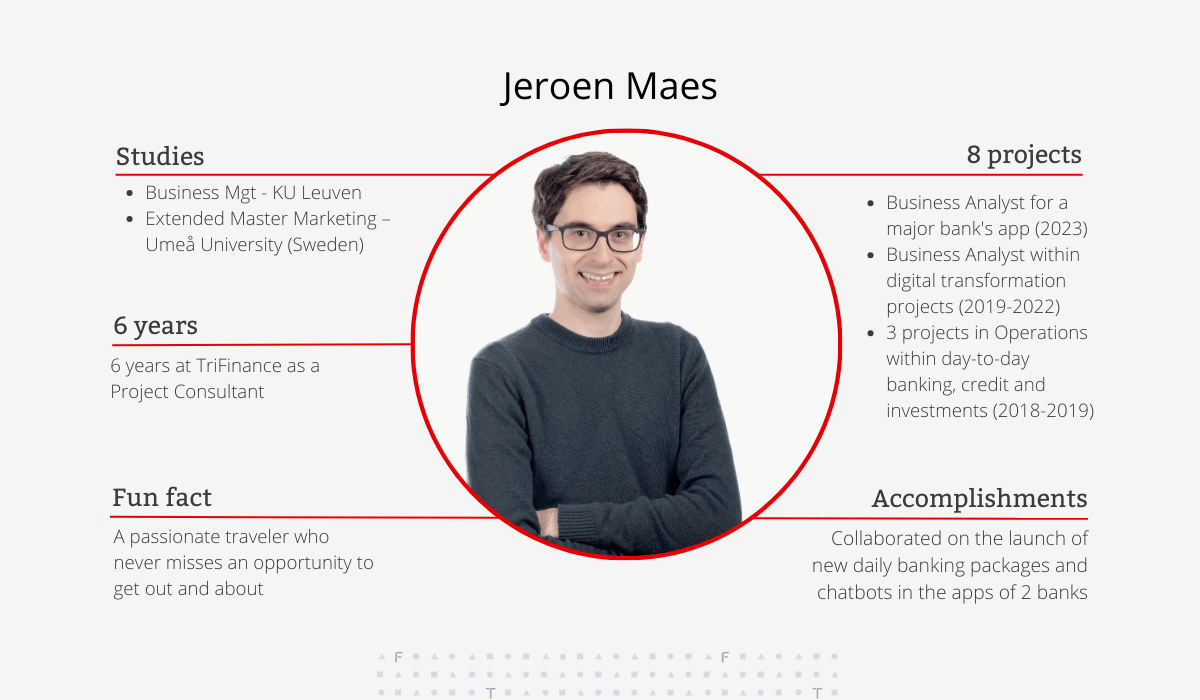 The importance of starting from the beginning
After completing my studies, my journey at TriFinance began with some projects in banking operations as a credit analyst, securities handler, and daily banking assistant. During these projects, I gained practical experience in the operations of various banks. I had the opportunity to perform a variety of tasks and gradually discovered where my strengths and interests lie. Consequently, I welcomed the challenge of continually proposing improvements based on the knowledge and experience I acquired across the different operational areas, which brought out my analytical skills.

To further develop my analytical abilities, I embarked on my first project as a business analyst in 2019. In this project, I focused on the process of customer acquisition through a bank's app. I realized that I found it fascinating to combine my analytical view with focusing on an optimal customer experience.
So, since October 2022, I've been working as a business analyst at a major bank, analyzing and coordinating the launch of new features for the app. A project that totally fits with what I love to do.

Through my initial operational projects, I acquired invaluable insights into a bank's core operations, gaining domain expertise that now helps me propose hands-on improvements.
Jeroen Maes, Project Consultant at TriFinance
What exactly does a business analyst do?
In essence, the Business Analyst (BA) acts as the bridge between business and IT. As a BA, I map out exactly what the customer wants. I bring all relevant stakeholders around the table to capture their input and needs. Subsequently, my role is to challenge these requests and translate them into a comprehensive list of business requirements. Then, these requirements are translated into an effective IT solution in collaboration with technical professionals such as functional analysts and architects.

Being a Business Analyst necessitates extensive consultation. Often, the role extends beyond its primary scope. For instance, in my capacity as a BA, I have also taken on change management responsibilities. This includes tasks such as communicating with internal and external stakeholders and delivering training programs. Additionally, I am occasionally involved in quality assurance testing activities ranging from writing test scenarios to conducting tests and tracking and reporting any test defects.
The common thread throughout my journey as a business analyst was my fascination with improving the customer experience through digital projects, such as optimizing a banking app.
The importance of stakeholder management
In my current role as a Business Analyst, I am also responsible for coordinating the project team. This involves bringing together all stakeholders at the start of a project, organizing weekly team meetings, and monitoring the status and progress of various deliverables. As a result, every day looks different!

My journey to becoming a BA at TriFinance was facilitated through relevant training sessions, including those focused on change management and design thinking. Throughout my projects, I could always count on the guidance of an experienced mentor. Drawing from my own experiences, I now also contribute to knowledge-sharing activities within TriFinance. For instance, I recently facilitated a workshop on writing business requirements as well as an Agile games workshop with other colleagues.
In summary
In summary, my career evolution from a recent graduate to a Business Analyst has been a rewarding journey marked by impactful contributions to finance and digital transformation. If you would like to know more about my projects or the role of business analyst, please do not hesitate to contact me at jeroen.maes@trifinance.be.