Key messages
Use an overarching system to improve HR management

Collaboration between HR and Finance is necessary
Assumptions about costing element are best provided by the controller
There is a lot of movement in HR and HD reporting. In this article, we take a closer look at the tools to improve HR management by considering both financial aspects and time planning at the role level. Since we want to include costing in the decision-making, we must first clarify some assumptions. These assumptions involve specific elements that are best provided by the controller.
CASE 1
We are talking about an organization in which we need 3 people. Below you find an overview of these people with their direct annual wage cost (column 2) and possible roles (columns 6 till 8).
Since P1 is a freelancer, no additional costs will be charged on his fee. The freelancer is a seasoned senior manager and charges a fee of € 700 per day for 8 hours/day, which brings his hourly cost to € 87.5.
P2 follows a specific training course that costs 20 K. A fixed overhead cost of 10K per year is also charged (column 3).
Due to the allocated costs and the fewer available hours, person 2 (on the payroll) is more expensive per hour.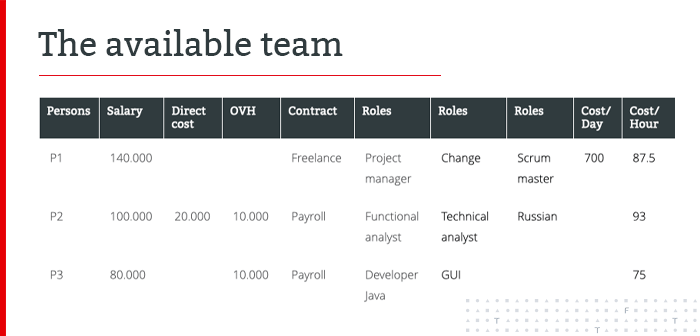 This way of calculating the cost is used in most organizations. However, this already distorts reality. First and foremost, the freelancer consumes internal overhead. The organization must maintain a database with the available freelancers and their skills. Also, a meeting to explain the project is necessary. As more and more roles are taken up by freelancers, Internal costs will increase and must then be fully maintained by the employees on the payroll. This distortion must be corrected by an appropriate cost price methodology.
The following projects must be planned:
It concerns a project that takes around one man-year. The required hours of project management are calculated based on the rule of 15% on top of project hours.
The project budget is:
We can easily map the activities of the project to the skills of the available people. We assign the project manager to the activity "PM and change". Person 2 will be responsible for the analysis activities. Person 3 will be looking after the development activities.
The project is budgeted at a cost of 100K. In general, this seems to be correct, as not many senior activities are required for this project. The cost of the project therefore roughly corresponds to an annual wage cost of the people on the payroll.
However, a second project must also be developed in the coming budget year. In this exercise, we make an abstraction of projects that are not just already planned on an annual basis. This is, of course, continuously the case in project organizations.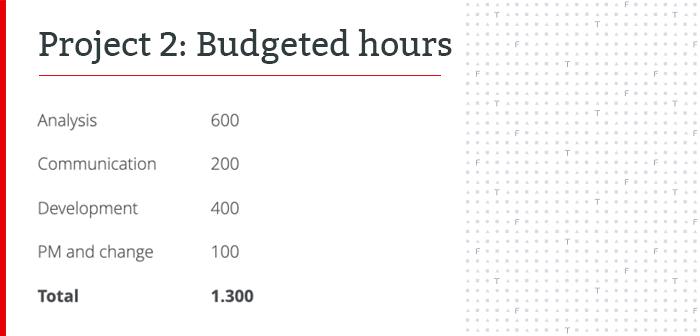 This project is more special as it entails working with a Russian partner and therefore requires knowledge of the Russian language. That is why 200 hours are budgeted for communication and only 10% is foreseen for 'PM and change'.
The important communication component has been removed from the role of the change manager. In a larger organization we don't know who possesses specific language skills, so these need to be registered and available in a database.
Now we must combine both projects.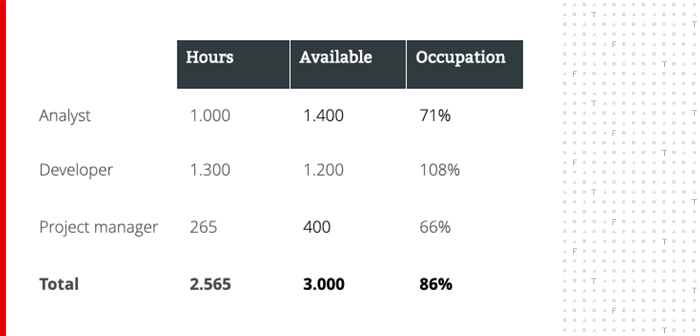 For the analyst and the external project manager, we still notice an understaffing of their hours. The developer needs more hours in order to be able to combine both projects.
There is an issue in both cases. What are we going to do with the excess capacity for the analyst? Are we going to look for another project or do we just let it be? If we choose the latter, it will become visible in his timesheet that he does not work 400 hours on his projects (considering, of course, that the planning follows the actuals). In the system, these hours must be included in the cost price calculation or an understaffing loss must be expressed in an income statement by period.
If the analyst is pressured to not make that loss visible, he will tend to spend more hours on the project. This will result in the project budget being exceeded. The uncovered hours will therefore be expressed either in a period P&L or in a project P&L.
Is the solution straightforward?
Another question arises. How are we going to fill out the 100 extra hours needed for development? HR has a freelance developer working at an hourly rate of € 50.
Will everyone be satisfied if we entrust the freelancer with the second project?
At first sight, this might look like a good solution, granted of course that this person delivers good quality of work. It is 33% cheaper than booking our own employees and all the necessary hours are allocated.
But just as with the analyst, we need to take into account that we are now freeing up capacity from our colleague on the payroll. If we do not find another project or task for him/her, this will have a negative impact on P&L of 22.500 K. This might also negatively affect the motivation of our colleague as an interesting project has been taken away.
Conclusion
The above case is simple: three employees and two projects, starting at the same time. The desired skills are relatively easy to map with the necessary roles.
To be able to manage this in a real-life environment where projects and employees change, where skills are not constantly monitored and registered, an overarching system is needed. This system must offer flexibility in management and allow the smooth creation of visuals so that bottlenecks can be easily highlighted.
Also, a collaboration between HR and Finance is necessary to keep the assumptions and reporting up to date. Both departments must work closely together. They need to involve operations to keep an eye on current and future projects, on the required skills, and on how to translate this into reporting.