Your challenges
Power up your current business model by digitizing IT
Develop new business models using digital technologies
Set up a governance framework for the digital (r)evolution
TriFinance and Tri-ICT help you to create sustainable new digital business models, using digital technologies and capabilities. Our approach is holistic, process-first and people-driven.
The digital enterprise
Digital Business has reached a point where most organizations are scaling up their digital capabilities. Business transformation driven by digitalization is now an absolute top priority for both private and public organizations. It offers them a new way to engage with customers, suppliers, employees, partners or any other stakeholder.
A large number of existing technologies can speed up the digital transformation of your organization. Think, for example, of Data Management, Process mining, Cloud ERP, Robotic Process Automation (RPA), Corporate Performance Management (CPM) platforms or even social media.
Driven by these digital accelerators, the ideal digital enterprise has a comprehensive view of business, processes and controls. Compared to its predecessor - the analog or 'less digital' enterprise, it features higher productivity levels, more operational efficiency, higher customer satisfaction and engagement, and superior talent management. It is also guided by a controlled and clear Governance, Risks and Compliance (GRC) strategy. Having a positive impact on business and results, all of these accelerators realize the full potential of Digitalization.
The vast amount of new capabilities offered by new technologies and new business models can enable your organization to stand out, create more value, be more productive and manage costs.
The adaptive enterprise
To realize the potential of any transformation, a change in business and operating models is essential. Organizations often lack understanding of their organizational, operational and business structure.
Past choices, investments, and contingencies have led to a very complex information architecture, fragmented data and systems, a lot of re-creation and duplication, misalignment between business and IT and a workforce that is not always ready and/or willing to operate in a more agile way.
Organizations need to move away from classic project-based transformation to a more agile, continuous integration that permits persistent adaptability to new business issues and market conditions in order to obtain more competitive advantage.
Digital Transformation's 5 drivers
Digital Business Transformation is so much more than technology generating disruption. It is a process of using digital technologies and capabilities to create sustainable new digital business models.
TriFinance offers a unique combination of services and expertise from a people, business and technology perspective. We understand the challenges any organization is facing when going through a Digital Business Transformation roadmap.
In the Business Transformation process towards a digital enterprise, we see five main drivers:
Business design
Ability to deliver
Motivated and empowered people
Improved insights
Enterprise IT
Governance
The five drivers, and the business transformation towards a digital enterprise as a whole, are to be underpinned by a solid governance framework. The digital transformation journey starts with a defined approach, a clear vision, goals, outlined objectives, and plans for current and future use.
These concepts need to be aligned in the organization, with the operating model and adapted to the business process maturity level within the organization. Business processes need to be documented.
Any digital transformation requires the development of a methodology, frameworks, guidelines and policies. Effectiveness measures and productivity metrics must be specified. It should also include a process automation and tool selection process.
Waterfall to Agile, On-Premises to Off-Premises, Project to Product.
How TriFinance can support you
TriFinance can support your organization in the transformation towards a digital enterprise on several levels, with a wide range of services.
Business (re)Design
Creating robust new business models often means redesigning the business based on a (re)new(ed) vision and strategy. Organizations might accomplish this by incrementally improving processes and functions, or they create a new vision and strategy.
Either way, TriFinance/Tri-ICT enterprise architects know how to support an organization to analyze, design and plan for the future, helping to define the roadmap from as-is to to-be, aligning IT infrastructure with business goals.
TriFinance experts will partner with any organization to increase process transparency, perform process analyses and optimize processes: End-to-end processes are at the core of any business transformation.
More info: Business Process Management
Ability to deliver
It may sound counterintuitive, but a digital enterprise's ability to deliver depends heavily on how people add value. Employees, however, spend 80 percent of their time on less challenging, operational, repetitive activities and only 20 percent on value-adding, challenging tasks. Processes are error prone on top. The business impact shows unused employee potential and low engagement.
Ability to deliver in this context means that organizations, among other things, expect faster and more personalized services for their customers, can decrease time-to-market and improve efficiency and effectiveness. Robotic Process Automation (RPA) can remedy that. At TriFinance/Tri-ICT we apply a holistic, process-first and people-driven approach on RPA.
More info on Robotic Process Automation

Motivated & Empowered people
TriFinance is a community of Me inc.® business and tech professionals within a stimulating network organization, sharing knowledge and growing continuously. Motivated professionals make the difference for any transformational assignment.
More info: How we do what we do
Improved Insights
The massive amount of data that companies produce should be reflected in comprehensive dashboards that help management make operational decisions.
Contemporary technologies make it easier for us to aggregate, filter and interpret this data.
To make decisions under uncertainty, however, we need forward-looking information. That can be produced by weighing data and evidence in recurrent situations. Algorithms will detect trends and can serve as a basis for behavior prediction.
Companies will be able to make decisions using predictive tools based on high probability of outcomes and the identification of key risks. TriFinance supports organizations in the entire process from gathering the relevant data to turning them into a set of predictive reports.
We also support the Finance department in the use of these methodologies to generate scenario-based planning. Different scenarios are generated by means of big data and algorithms and presented to executives at the right time.
Capturing and modeling all this data is far too complex and time-consuming to be performed without making use of prescriptive functionalities. Finance should embrace these functionalities to increase their added value with a holistic view on the near future, based on all relevant data that is available.
More info: Reporting & Analytics
Enterprise IT
Technology is a key enabler, but often seen as an operational cost. Our Workflow Digitization solutions will enable an organization to switch the operational IT costs to strategic investments that are at the heart of the digital roadmap. More Info: link to Workflow Digitization
Often a digital transformation process results in (re)selecting appropriate technology solutions and/or acquiring new business software. TriFinance understands this is a difficult task where a lot is at stake. We structure the entire selection process so an organization can pick the best software and implementation partner for their needs.
More info: System & Software Selection & Design
In short, the governance framework lays down the rules around people, processes and systems.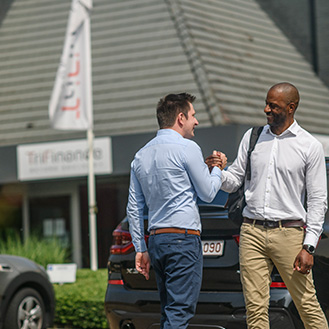 Get in touch with our expert.
Questions about how we can support you?
Contact us